Join Our Team
If you are looking for a fulfilling career in which you can make a positive, meaningful impact on the lives of people with disabilities, then a career in Case Management may be right for you. IPMG is Indiana's largest and most preeminent provider of Medicaid Waiver case management services, and we are in the market for creative, committed and compassionate individuals to join our team.
IPMG's team is comprised of dedicated, passionate and highly trained Case Management Professionals who represent the best of the best in the field of disability support in Indiana. If you want to be part of an ever growing and expanding company that has as its core belief "The needs of the individuals served are paramount," then we want to talk to you! See what IPMG has to offer to the right candidates.
IPMG is 100% Employee-Owned as an ESOP (Employee Stock Ownership Plan). This means that each employee with at least 12 months of service with IPMG owns a part of our company in the form of company stock. An ESOP is a qualified retirement plan subject to IRS and Department of Labor rules and regulations, and company stock is held in a trust for the benefit of plan participants until retirement or separation from the company.
We offer a comprehensive package of support, training and benefits within a virtual environment that offers flexibility and work-from-home independence. Our employees enjoy:
Training and Development: Our dedicated Department of Training and Development ensures that new and ongoing case managers receive the support they need to become a confident, experienced Case Manager.
Team Support: Every Case Manager is linked to a Case Management Operations Manager and a team of colleagues who are there to help with the learning process.
Career Path Development Program: IPMG offers this structured program to interested Case Managers to assist them to identify and plot a course toward their career goals.
Promotional Opportunities: We believe in promoting from within! Management level opportunities are routinely made available to all of our staff.
Virtual Work Environment: IPMG Case Managers enjoy the independence of working from home, knowing that support and answers are available to them via a sophisticated network of communication and resources.
Flexible Schedules: Case Managers are able to set their daily work schedules around the needs of the individuals they serve, and don't punch a time clock.
Employee Benefits: IPMG offers a complete benefits package for all full-time employees, including company paid medical, dental and vision coverage, HSA with company contributions, company paid life insurance, paid vacations, 10 paid holidays plus a floating holiday, birthdays off with pay, one paid Community Service day per year, Employee Ownership through ESOP, a 401(k) plan, company-paid short term disability insurance, expense reimbursement, a Verizon wireless discount of up to 22 percent, and discounts and passes to Anytime Fitness.
Technology: We're going paperless! All IPMG employees receive a smart device on day one of employment to help them streamline the paper functions of their job.
Crisis Line: Our employees can enjoy their free time. IPMG has a 24 hour Crisis Line and staff who are responsible to handle after hour emergencies, without burdening our Case Managers.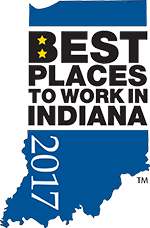 IPMG Employees shared their enthusiasm for their jobs in our Employee Satisfaction Survey, which was administered by the Indiana Chamber of Commerce to evaluate our company. IPMG is proud to announce that our company has been named as one of the top 100 Best Places to Work in Indiana for three years in a row. We look forward to working our way up in the rankings each year as we continue to grow and become an increasingly fantastic workplace!
See what our employees said on the survey!
Case Managers are required to have a BA or BS degree, and at least one year of experience working with individuals with Intellectual and/or Developmental Disabilities. If you think you would be a good fit for this great position, we'd love to talk to you. Please watch the following eight minute video to learn more about Case Management and IPMG. At the end of the video, click on the link to access an application or send us an email for further information.